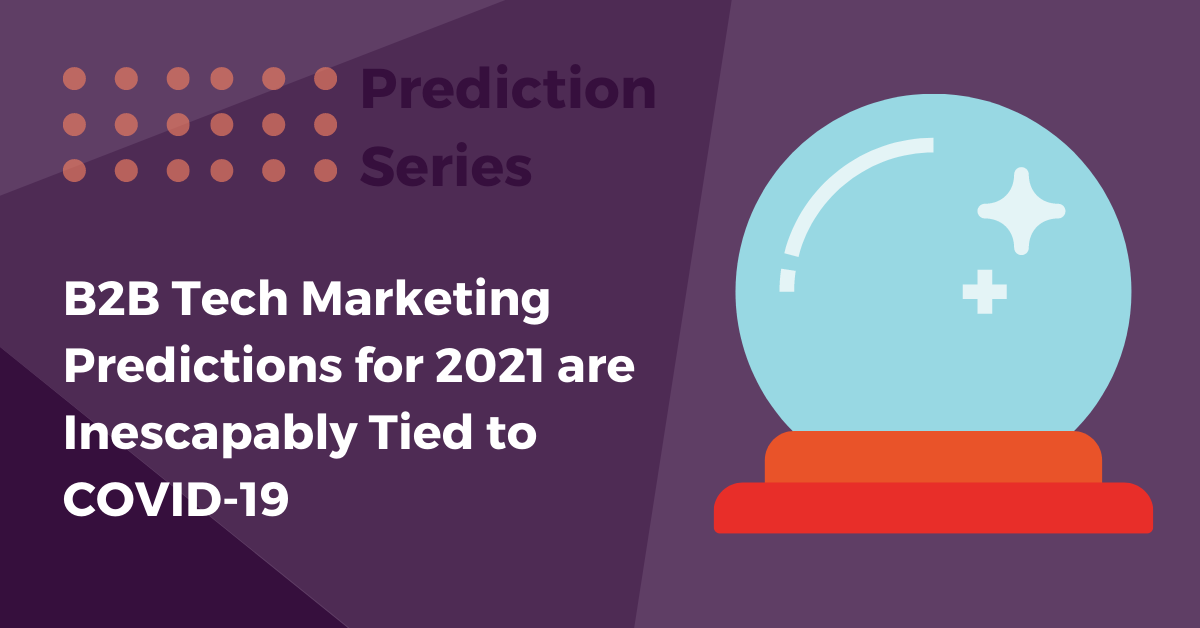 Binge-watching, sourdough baking, learning pods—all trends that we've read about endlessly as the world continues to combat the pandemic. But from a business perspective, the huge shifts in how society works, lives and interacts have impacted everything from budget priorities to supply chains. These changes and their effect on budgets and priorities will influence how B2B tech firms invest in outreach, branding and demand gen programs for much (if not all) of next year…and possibly for the long term.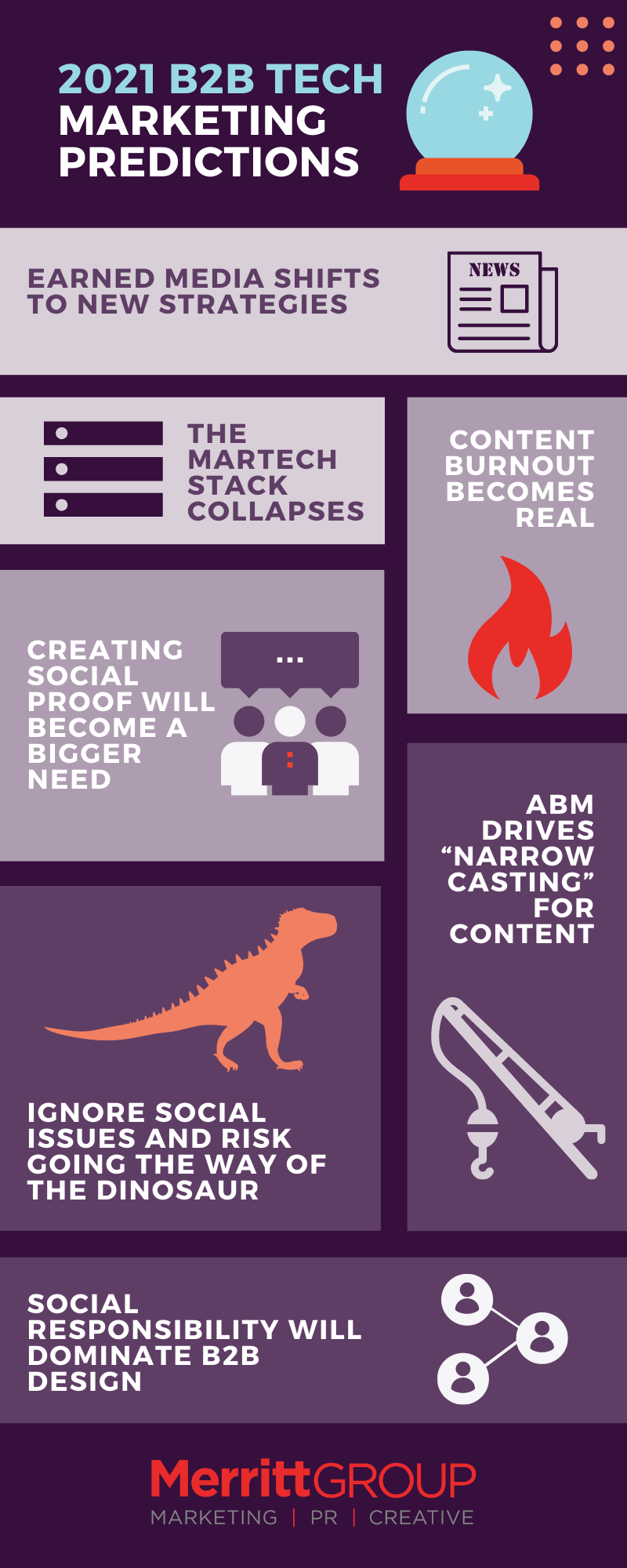 1. Earned media shifts to new strategies
At Merritt Group, we have seen our clients move beyond pure earned media relations for several years, embracing more paid and owned marketing and communications strategies. With COVID forcing travel restrictions and furloughs in journalism, 2021 will see a marked shift to paid media and other content opportunities as well as an uptick in video and webinars to better communicate virtually. PR people still can sustain successful earned media programs through good relationships with the media, providing creative ideas backed with relevant validation and offering up quality subject matter experts that deliver value to journalists. – John Conrad, EVP & Senior Partner
2. The MarTech stack collapses, driving consolidated solutions
With the downward pressure of COVID-19, more senior marketing leaders are struggling to keep up with a martech landscape that's exploded to over 8,000 martech solutions in 2020, a 13% increase over 2019. In a recent study of 400 marketers, Sirkin Research asked, "Are your current martech solutions a strategic enabler?" Only 24% said yes. As 2021 approaches, organizations will need to adopt a "less-is-more" approach to simplify, streamline and better operationalize their current marketing stack—not only to justify its expense, but to get the most out of their existing technology to drive results. – Pasha Irshad, Vice President, Digital
3. Content burnout becomes real; brands shift strategies to rescue the buyer journey
Doom scrolling notwithstanding, attention spans are getting shorter: while audiences viewed more B2B content since the pandemic began, they also engaged for less time—as much as 38 percent less. Post-COVID, snackable quick videos, blogs and bylines will remain more effective top-of-funnel elements. As decision-makers and influencers move through the journey, shift to longer content to deliver the level of detail they want. – Peter Jacobs, Sr. Content Strategist
4. Creating social proof will become a bigger need for B2B marketers
B2B marketers spend a lot of effort on getting Position Zero or Position One on Google, mastering targeting in a post-cookie world and standing out in the never-ending noise of social media, but many miss out on the power of creating social proof. But, that's changing. Going into 2021, more and more organizations will use peer review platforms like Gartner Peer Review, TrustRadius, G2 Crowd and dozens of other similar tools to power a variety of use cases — from third-party validation to sourcing testimonials and case studies to using the dashboards provided by these platforms to access user and intent data. – Shahed Ahmed, SVP & Partner
5. ABM drives "narrowcasting" for content
Not all content needs to be produced for the broadest audience. As part of an ABM, deal-focused strategy, B2B marketers will focus COVID-limited resources on producing content specifically for a narrow audience — even as few as 10 key people. Showing that you've taken the time to understand what makes organizations unique can pay huge dividends, especially considering the size of enterprise deals. This holds true whether you're reaching out to corporate CISOs or to government agency decision makers. – Peter Jacobs, Sr. Content Strategist
6. B2B brands that ignore social issues will go the way of the dinosaur
Millennials and Gen Z dominate today's job and consumer markets. In fact, Millennials make up more than half of the global workforce; the Deloitte Global Millennial Survey 2020 found that values and morals are the top factors influencing Millennials' business decisions. Gone are the days of the "stay out of it" strategy; now more than ever, younger generations are challenging the brands they work with and buy from to take a stand on issues ranging from racial inequality to climate change. For 2021, brands will likely invest more in both internal and external efforts like employee resource groups (ERGs) and corporate social responsibility (CSR) initiatives, respectively. – Natalie Robertson, Sr. Marketing Associate
7. Social responsibility will dominate B2B design
A study from McKinsey & Company found that 97% of senior executive boards in the U.S. "fail to reflect the country's labor force and population demographics." Diversity and inclusion have shifted to the forefront of most organizations' minds, impacting every function from HR to Creative. Going forward, expect to see substantially more inclusive design practices such as racial diversity in photography and deaf-blind web accessibility, which will be critical in an increasingly digital, post-COVID world. – Natalie Robertson, Sr. Marketing Associate
Want to move the sales needle in 2021? Learn more about how our marketing services can help you shape brand perception, create awareness, drive new leads and convert more prospects into loyal customers.