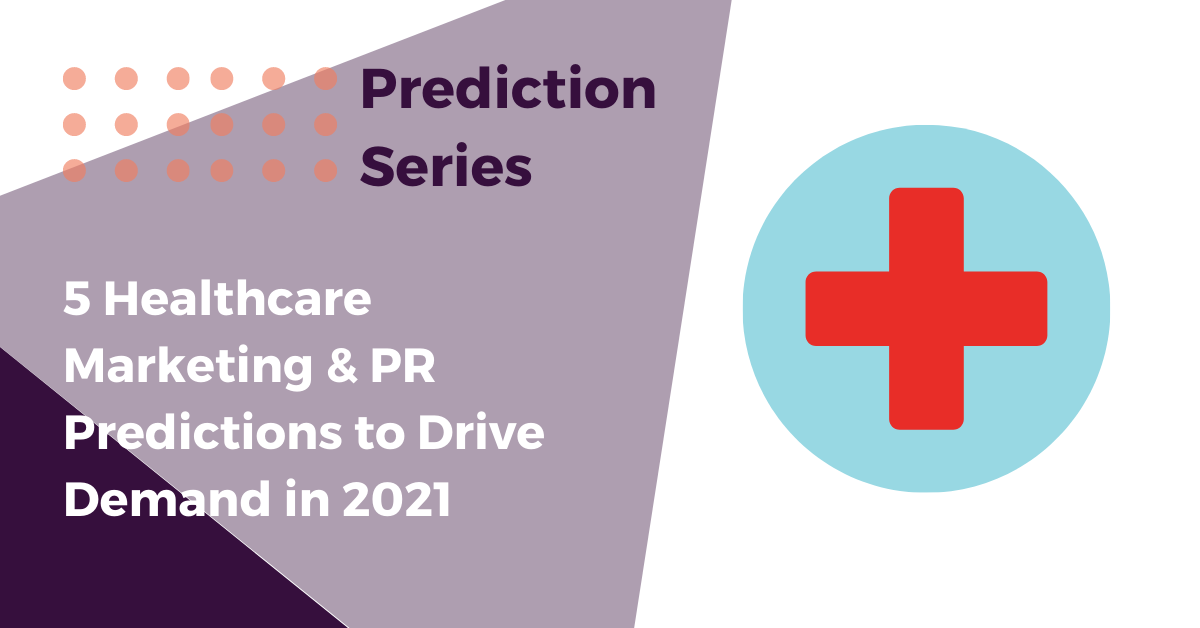 To say 2020 wasn't a monumental year for healthcare would be a huge understatement. Exponentially greater acceptance and use of health IT — driven by pandemic safety concerns — led to a boom in solutions from existing and startup players entering the scene, making it tough for the true innovators to stand out from the competition.
While COVID-19 dominated the landscape this year (and will continue into 2021), we are seeing many impactful trends that healthcare marketers should keep an eye on. Here are the biggest changes we see for 2021 that will reshape healthcare marketing and PR.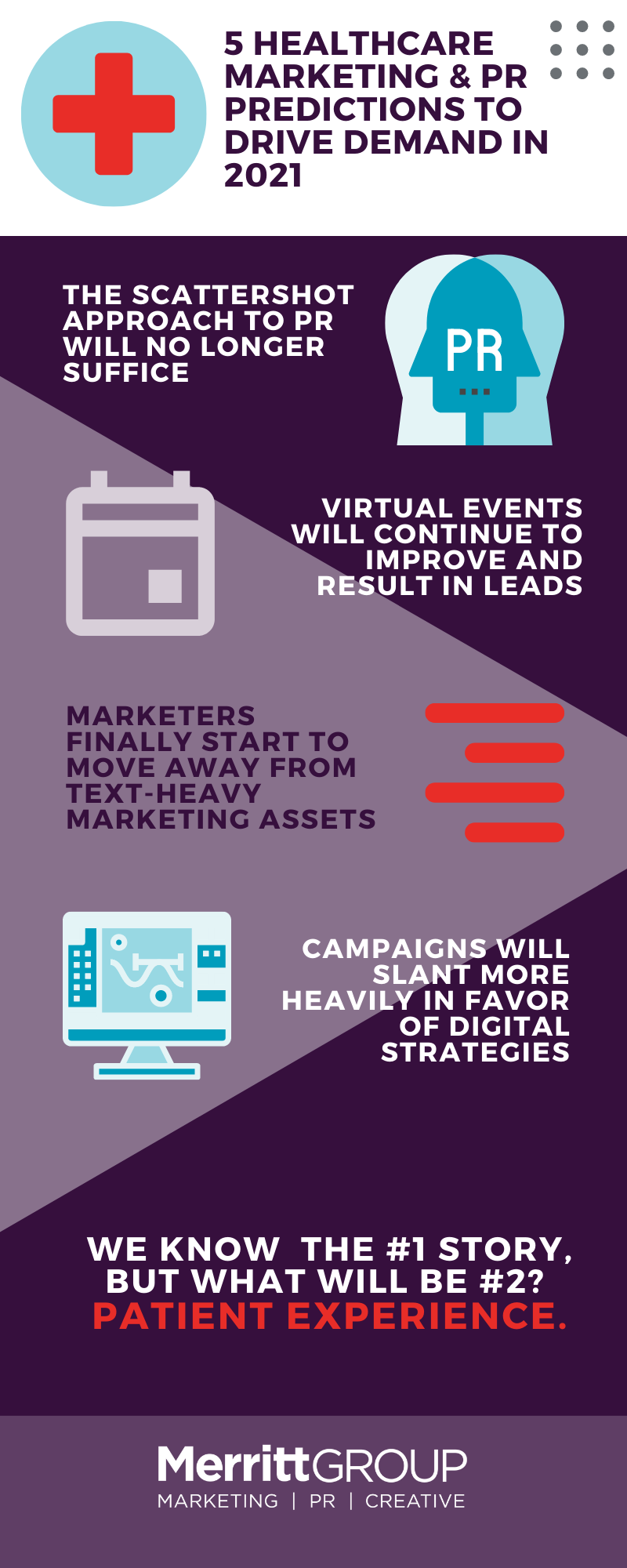 1. The scattershot approach to PR will no longer suffice 
While newsrooms have continued to shrink dramatically each year, healthcare remains hot. There are smaller pools of reporters who are hyper focused on a topic — whether that's vaccines, technology, COVID-19, or policy — and you must do your research to pitch the right person. No longer can you assume that just because a reporter "covers healthcare," they're interested in your story or it will result in earned media coverage.
For example, Business Insider's healthcare team has grown tremendously since the start of the pandemic, with each reporter covering a specific issue topic as noted above. Be sure to check their social media feeds for updates on their interests so your story is relevant to them.
Additionally, as the pandemic continues to upend the healthcare industry, the hierarchy of influencers will also change. Remain aware of who is making an impact so that you can share your content with the right people.
2. Healthcare marketers will slant their campaigns more heavily in favor of digital strategies 
With COVID-19 still being a front-and-center issue in 2021, people will be more homebound than not. A hard lesson was learned this year for healthcare marketers who didn't pivot fast enough to digital.
In our How to Market & Sell When It's Not 'Business as Usual' guide, we discussed how COVID-19 has driven more people online — up to 25% in some major cities. Your website is where you'll be driving your potential customers, so providing a positive user experience is paramount. Also looking into investing in heat mapping, survey and behavior analytics tools, such as HotJar, SmartLook or FullStory, that can help you better understand your buyer's journey and determine where you can update your website to increase conversion rates. For example, if visitors bounce each time they hit your solution/product description, swap in a more engaging, easy-to-consume explainer video instead.
3. We know what the #1 healthcare story in the media will be in 2021, but what will be #2? 
Coronavirus and the vaccine will of course remain the primary focus as we head into 2021 but other major trends will continue to rise to the forefront. We believe that number two will be the increased focus on the patient experience. This started with consumerization of healthcare, but now it's gaining even greater momentum with COVID, telehealth, and increasing consumer expectations about what they need/want from the health ecosystem.
Additionally, patients will get access to new wearable options to monitor their health. Combined with more transparency than ever from their medical professionals on how healthy they are and where they need to improve, the focus on the patient experience will continue in 2021. Healthcare marketers will need to up their game though more visual and interactive content that shows improved interfaces that can be used by a broad demographic range, along with data showing improved patient satisfaction and acceptance.
4. Healthcare marketers will finally start to move away from text-heavy marketing materials
The healthcare industry has been long known for relying on text heavy white papers and marketing materials handed out at tradeshows. As we mentioned in our Telehealth Marketing & PR Guide, with ad rates down, social media platforms and over-the-top (OTT) paid campaigns will become ideal for grabbing physician and provider eyeballs.
Video and audio will also present the ideal format for allowing physician advocates to participate in social media marketing and help tell a story straight from the user's mouth for greater impact. Beyond paid, healthcare marketers will integrate more video throughout their content marketing strategy—from embedding video on websites to making their company more searchable to executing on more nurture email campaigns.
5. Virtual events will continue to improve and result in leads
Virtual events are now firmly ingrained in our day-to-day business operations — and they're not going away any time soon, with major conferences like JP Morgan and CES being fully online in early 2021. While video fatigue can't be ignored and events must be shorter to accommodate that, virtual events must offer the opportunity to make connections and offer sometimes better demand generation opportunities to help foster leads. In fact, a recent survey of healthcare professionals indicated that online conversations and chats were one of the top three technical features most valued in a virtual event.
If you are doing your own event, make sure it's clear to target attendees what outcomes they can expect from your event — as they are likely being bombarded with virtual events to attend right now. Also, post the materials online afterwards, so that you can increase the shelf life of your event and share post-event content on your website, social channels, and in emails.
Want to break through in the healthcare market in 2021 and beyond? Learn more about how our healthcare industry expertise can get you there.